Ningbo National Hi-Tech Industrial Development Zone
Ningbo National Hi-Tech Industrial Development Zone (Ningbo Hi-Tech Park) is located east of downtown Ningbo and has easy access to deep-water ports, highways and the Hangzhou Bay Bridge. It is a new scientific and technological zone with convenient transportation, an integrated infrastructure, beautiful environment and concentration of talented people. As a scientific research base in the south Yangtze River Delta, Ningbo Hi-Tech Park plays important roles in establishing Ningbo as a city of innovation.

In a pioneering effort to acquire new talent, Ningbo Hi-Tech Park has founded Ningbo Incubation Park for returned students, and a national innovation and incubation center for high-level overseas talent, which has become a hub for highly qualified personnel offering effective support to the innovative reputation of Ningbo. At present, among 50,000 talented people work in the Park, 1,000 are returned overseas students, 200 are foreign experts and 63 are experts selected from national and provincial talent resource projects. Another 92 experts have been chosen from local talent resource projects.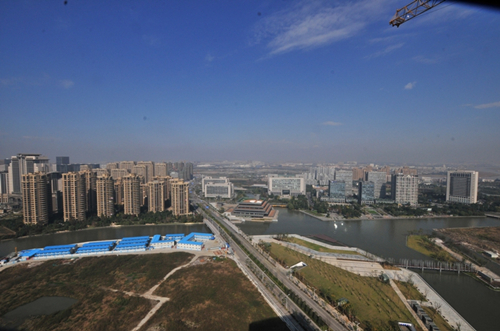 So far, there have been about 400 new institutions opened in the Park, including IBM Lab, TCL R&D Center, Ningbo Public Technical Service Platform, National Test & Authentication Group Ningbo Center, China Safety Science and Technology Institute Ningbo Branch, as well as five academician studios. The Park has provided open technical services for the restructuring and upgrading of local enterprises.
Dependent on a number of domestic leading and emerging companies, Ningbo Hi-Tech Park focuses on the development of new material industries and produces obvious competitive advantages in such niches as magnetic materials, synthetic materials and high-performance metals.
With leading companies and professional institutes inside the Park, Ningbo Scientific and Technological City of New Material was established in August 2013. The Park aspires to become a world class R&D center, establishing itself as an innovative base for the application of new materials through the integration of technology, industry and finance.
The Park has founded "Ningbo Innovation Harbor" in its R&D Center as a venue for local scientific and technological events and achievements in publishing. The Innovation Harbor sponsors around 100 activities every year, including academic reports, scientific result releases, agreement signings, technical training and scientific workshops. In addition, through the Innovation Competition, Creation and Design Competition and Entrepreneurship Competition, it has introduced talented personnel and innovative teams from the Park to a global stage promoting the industrialization of scientific and technological achievements.
Moreover, Ningbo Investment Place, a platform between capital and technology, has been established. It brings together approximately 100 private equity, venture capital and intermediary agencies. An investor's club, a financial service alliance, an ST financial service platform and other service agencies have been established. ST Bank of Ningbo has provided assistance to SMEs of science and technology throughout their development.