First cargo train links Tibet, Ningbo to boost trade
Containers of Tibetan bottled water were loaded on the first train from Lhasa, capital of Southwest China's Tibet autonomous region, heading for the East China city of Ningbo, Zhejiang province on Dec 28.
It is the first regular set of charter trains to bring Tibet-made commodities to China's inland areas. Carrying 1,890 tons of bottled water in 35 carriages from Tibet, the one-way train will travel 4,500 kilometers to its destination: Ningbo Zhoushan Port.
Comparatively expensive highway logistics are more convenient in Tibet, confined to the region's varied geographic conditions. The new freight train will help reduce the logistics cost and increase the speed of the carriage of goods.
Ningbo Zhoushan Port, the world's largest cargo handling port, will also help Tibet shift its resources into economic zones.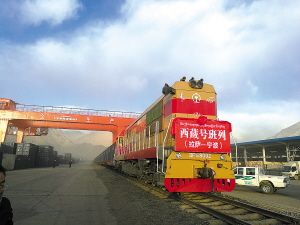 The first freight train service linking Lhasa, capital of Southwest China's Tibet autonomous region, with Ningbo, Zhejiang province begins operations on Dec 28. [Photo/cnnb.com.cn]