Ningbo joins hands with eBay for cross-border e-commerce
China (Ningbo) Cross-border E-commerce Comprehensive Pilot Area signed a strategic cooperation agreement with eBay International AG on Jan 6 to develop the booming e-commerce trade of the city.

US e-commerce giant eBay, seeking new ways to expand its Chinese market, has made a new partner of the harbor city of Ningbo in Zhejiang province.
The two parties will join hands on four aspects: cooperation with local government, talent training for cross-borders trade, B2C (Business to Customer) industry development and logistics.
Todd Wang, government relations director of eBay Greater China, expressed that the company wants to utilize Ningbo's full potential in foreign trade and upgrade its importance in the city's development.
Ding Haiping, Ningbo government official, said that Ningbo companies are expected to utilize eBay's spacious overseas platform and upgrade the city's manufacturing industry.
In addition to eBay, Ningbo has also cooperated with other e-commerce giants, including Amazon and Alibaba.
In 2016, the total import and export volume of cross-border e-commerce in Ningbo reached 27.01 billion yuan ($3.90 billion). The import volume totals 5.37 billion yuan ($0.8 billion), up by 83.17 percent compared with that of 2015.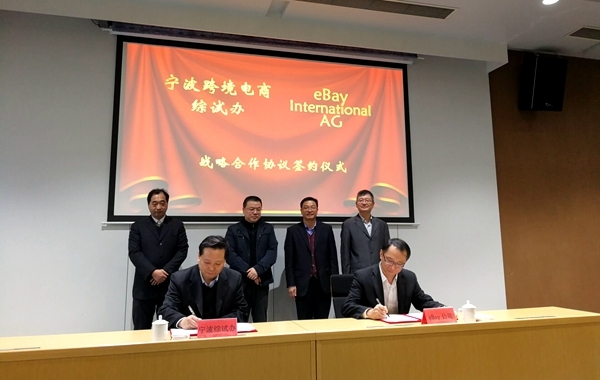 China (Ningbo) Cross-border E-commerce Comprehensive Pilot Area signs a strategic cooperation agreement with eBay International AG on Jan 6. [Photo/nb.zjol.com.cn]