New cross-sea bridge to connect Ningbo and Zhoushan
The construction of a second cross-sea bridge connecting the cities of Ningbo and Zhoushan in Zhejiang was approved by the provincial development and reform commission on Feb 4.
Starting from Liuheng Island of Zhoushan, the bridge will reach Chaiqiao town of Ningbo with a total length of 31.12 kilometers. The construction will comply with the standards for highways with a limited speed of 100kmph. The new bridge is expected to cut at least one hour of travel time between Ningbo and Liuheng.
The bridge is expected to further develop Ningbo-Zhoushan Port by helping the Meishan Bonded Port in Ningbo to reduce storage and logistics pressures.
A total investment of 17.65 billion yuan ($2.65 billion) will be put into the bridge construction, which is expected to begin at the end of 2017.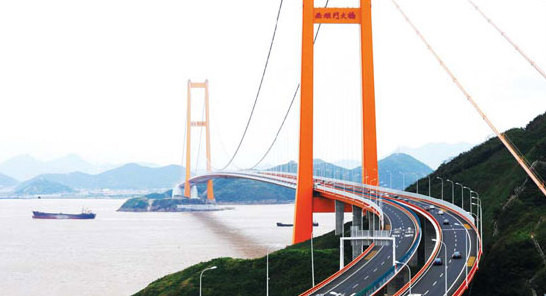 The Zhoushan Cross-Sea Bridge, which was completed in 2009, is the first cross-sea bridge connecting Zhoushan and Ningbo, Zhejiang province. [Photo by Yao Feng]