Ningbo-Zhoushan Port welcomes one of world's largest tankers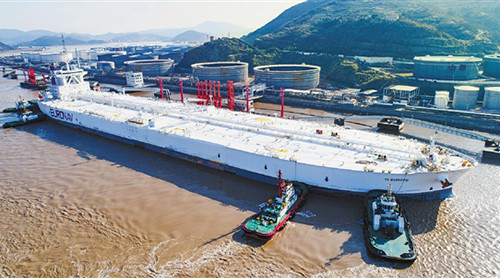 TI Europe berths at Shihua oil terminal of Ningbo-Zhoushan Port to unload 260,000 tons of crude oil. [Photo/moc.gov.cn]
TI Europe docked at an oil terminal at Ningbo-Zhoushan Port, Zhejiang province on Feb 13.
The tanker, carrying 339,600 tons of crude oil, unloaded 260,000 tons at the port in about 40 hours.
TI Europe, made by Korea's Daewoo Group in 2002, is 380 meters long and 68 meters wide. With a total deadweight tonnage of 419,000 tons, it is one of the world's largest oil tankers in service.
Lu Juncheng, general manager of Ningbo Shihua Crude Oil Terminal Co Ltd, the owner of the terminal used by T1 Europe, Asia's largest crude oil terminal, said the tonnage of oil unloaded from the tanker set a new Ningbo-Zhoushan Port record. A lot of advanced preparation was required to ensure the successful docking and unloading.
Ningbo-Zhoushan Port is an active contributor to the national strategies. Merged together from ports in Ningbo and Zhoushan, two coastal cities in Zhejiang, it is a positive response to the country's call for integration of port resources and development of the maritime economy.
Under the guidance and management of Zhejiang Provincial Seaport Investment & Operation Group Co, the port organizes international forums and promotes cooperative projects. It strives to make every effort to strengthen connections with countries and regions along the Marine Silk Road, to serve the Yangtze River Economic Belt and to continuously improve.