Former Wall Street worker luring foreign investment to rural village in Ninghai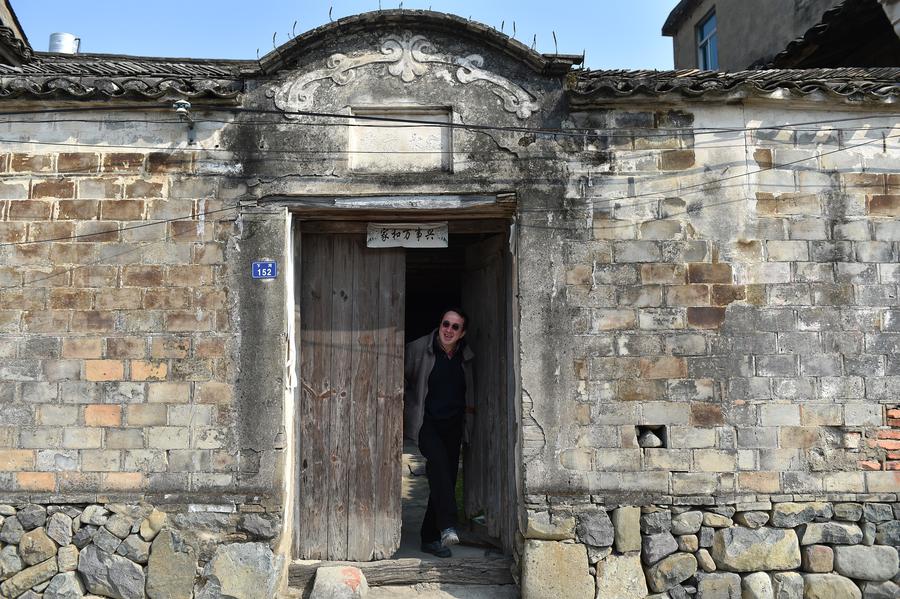 Emmanuel Denis, a foreign village official of Hehong village in Ninghai county, Ningbo, visits a vacant house on Feb 17. [Photo by Huang Zongzhi/Xinhua]
For someone who used to live the notoriously fast pace Wall Street lifestyle, the quaint setting of rural Ninghai county is certainly a dramatic contrast for French national Emmanuel Denis.
However, after marrying a Ninghai county native 16 years ago, Denis moved to the coastal region and, in February 2016, undertook a new role as a Hehong village official hoping to promote the area's beautiful landscape and historic architecture.
In the past year, Denis has striven to improve the lives of villagers in a variety of ways. He has contacted a volunteer doctor to perform free of charge cataract operations for more than 10 villagers. Additionally, he has helped renovate roads in need of repair and houses that are falling apart. In January 2017, the village also began the construction of a pavilion that will become a relaxation focal point of the settlement.
Denis's fresh ideas have brought welcome change to Hehong village and he hopes that further infrastructure development can attract tourists. On Feb 16, Denis helped facilitate the visit of 12 foreign businessmen in the hope of gaining investment. One proposed project is Yangjiale, a site that will incorporate guesthouses, cafes, and bars.
"The old houses and beautiful landscape are fascinating," said one American entrepreneur who expressed his eagerness to invest in the Hehong village investment project.
Denis sees great potential in the village and is proud to encourage investment in this small settlement. He hopes to develop the tourist facilities while preserving Hehong's original style and feeling.
"If we can transform these houses into hotels, cafes or bars on the basis of their native exterior appearance, it will be attractive for tourists," said Denis.
"Old houses carry local culture and local history. People from urban areas may prefer this kind of architecture to feel slow-paced village life."
While the project may be in its infancy, the charm of Hehong paired with the drive and connections of Denis seems a combination destined for success.