Sunny outlook for Ningbo photovoltaic industry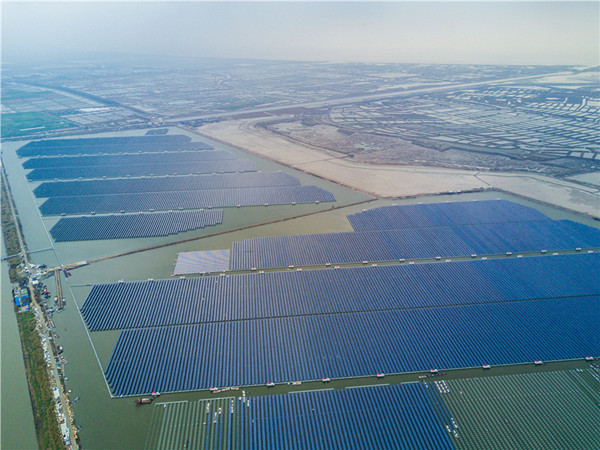 Cixi, a prefecture-level city in Ningbo, is home to China's largest photovoltaic solar power generation project. The facility was officially put into operation on Jan 11, 2017. [Photo by Xu Yu/Xinhua]
Ningbo's solar power industry bounced back from its recent downturn to grow strongly in 2016, according to statistics from the municipal government.
The city's photovoltaic solar companies achieved a combined output of 11.45 billion yuan ($1.66 billion) in 2016, up 14.2 percent from 2015.
The industry had previous been struggling as a result of the US' decision to slap anti-dumping duties of 31 to 250 percent on Chinese solar cells in 2012, which hit local companies' exports hard.
However, Ningbo's PV-solar companies are now stronger than ever, according to government experts. "The photovoltaic industry is growing healthily," said Chen Bingrong, director of Ningbo Municipal Economic and Information Technology Committee.
Key to the industry's recovery has been companies' efforts to develop new export markets, particularly in India, Turkey, Morocco and Brazil, according Ren Fengbo, secretary-general of Ningbo Electronics Industry Association.
These efforts are reflected in the figures, which show a significant rise in the export volume of PV products from Ningbo in 2016. Ningbo's PV exports accounted for more than 30 percent of the total in Zhejiang province.
Companies have also improved their competitiveness by focusing on technological innovation and investing in research and development, Ren added.
There are now 40 PV-solar companies in Ningbo with annual revenues of more than 20 million yuan, of which five have been approved as qualified for national standards by China's Ministry of Industry and Information Technology.
Some companies saw incredible rises in sales and profits last year. Risen Energy Co Ltd, based in Ninghai county, posted a year-on-year net profit growth of 115.44 percent in 2016.
"Our production lines will be busy during the first few months of 2017 as the number of orders has increased enormously," said a manager at Risen.
Many companies are also taking steps to develop further in 2017. Wang Yiming, general manager of Ningbo Ginlong Technologies, said: "Ginlong is working on productivity improvement to better satisfy the demands of the rapidly developing photovoltaic industry."
Experts predict that the dominant trend in Ningbo's photovoltaic industry in 2017 will be its exploration of intelligent manufacturing.