Ningbo boosts development of Eastern New Town construction
The construction of Ningbo's Eastern New Town (ENT) has recently reached a new stage as more than 400 new shops have settled in the Intime shopping center.
At a total area of 15.85 square kilometers, ENT is an important area for Ningbo's eastward expansion and will be one of the city's future political, economic, cultural and commercial centers.
Over 16 billion yuan ($2.3 billion) will be invested in the development of ENT in 2017, especially to attract investment and improve the quality of construction.
Four complexes, including the Ningbo Center (a high-end integrated business and commercial complex) and City Lights (a high-end leisure and tourism destination), and five ecological projects are anticipating completion this year. Auxiliary projects, including a library, a cultural square and an ophthalmic hospital are also expected to be completed.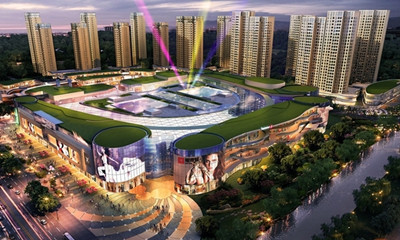 The expected picture of Ningbo's Eastern New Town. [Photo/xsnet.cn]